STONE, Lewis

Other surnames mentioned: Cline, Denney, Hoppes, Manor, Scott, Stone, Warnock

Lewis STONE, a former member of the board of county commissioners of Jay county and one of the best known farmers and landowners of this county, proprietor of an excellent farm in Jefferson township, rural mail route No. 2 out of Redkey, where he makes his home, is a native son of Jay county, a member of one of the real pioneer families of this county, and has lived here all his life. Mr. STONE was born on a farm in Noble township on May 13, 1853, and is a son of William I. and Margaret (WARNOCK) STONE, natives of Ohio and both of whom had grown up amid pioneer conditions in this county. William I. STONE was born in Gallia county, Ohio, March 10) 1820, and was ten years of age when he came to Indiana with his parents, James and Sarah (DENNEY) STONE, the family settling in what later came to be organized as Noble township in this county. It was on September 10, 1830, that the STONE's came here and settled down on a woodland tract which James STONE had picked out as a place of residence. On November 9, 1832, he entered at the Government land office his claim to a quarter section of land covering that tract and obtained title to the same, thus having been the first man to enter land in what presently came to be organized as Jay county, this land at that time having been within the confines of Randolph county. During the year following James STONE secured title to an adjoining tract and it was not long until he had there a well developed farm, early coming to be recognized as one of the useful and influential pioneers of that neighborhood. James STONE and his wife were born in North Carolina, where they were married and where four of their twelve children were born. In 1819 they moved to Gallia county, Ohio, and there remained until they came to Indiana. On their pioneer farm in section 35 of Noble township they spent the remainder of their days, doing well their part in the development of proper social and economic conditions in the formative period of that now well established and prosperous community. James STONE was an energetic man and increased his land holdings until he was able to give to each of his children an "eighty" and at the time of his death was still the owner of 234 acres. His death occurred, in 1849. His wife had preceded him to the grave in the spring of 1848. William I. STONE, father of the subject of this sketch, was the fifth in order of birth of the twelve children of James STONE and wife and, as noted above, was but a boy when he came here with his parents in 1830. He grew to manhood on the pioneer home farm and on his twenty-fourth birthday, March 10, 1844, married Margaret WARNOCK, who also was born in Gallia county, Ohio, November 4, 1825, and who was thirteen years of age when she came with her parents, Francis and Sarah (CLINE) WARNOCK, to Jay county, the family settling on a woodland tract in section 27 of Noble township in 1838. Francis WARNOCK was a Virginian by birth and his wife was a native of Pennsylvania. They created a good home on the tract they had entered from the Government and there spent their last days, his death occurring in the summer of 1884, he then being eighty-four years of age, and hers, in the spring of 1886, she then being eighty-nine years of age. They were the parents of eight children and the WARNOCK connection in the present generation is a numerous one, even as is that of the STONE's. Some time after his marriage William I. STONE made his home on an ''eighty" in Noble township which his father had given him and made an excellent farm out of it. On that place he spent the rest of his life. His wife had long preceded him in death, her passing having occurred on March 16, 1866. They were the parents of fifteen children, of whom six are still living, the subject of this sketch and his sisters, Sarah, Rose, Nora, Rita and Angeline. Reared on the farm on which he was born in Noble township, Lewis STONE received his schooling in the neighborhood schools and continued as an assistant to his father in the labors of developing the home place until he was twenty-two years of age, after which he rented a farm in the neighborhood and began farming on his own account. The next year he married and established his home on that place, remaining there for twenty years, at the end of which time he bought an "eighty" in Jefferson township, the place on which he is now living, and has since resided there, he and his family being very comfortably situated. Since taking possession of that place Mr. STONE has added to his land holdings by the purchase of an adjoining "forty" and now has a well kept farm of 120 acres and a 'very well equipped farm plant. Mr. STONE is a Republican and has long been regarded as one of the leaders of that party in this county. In 1916 he was elected a member of the board of county commissioners from his district and served in that important capacity for four years, thus having been a member of the board during the time of the erection of the splendid new Jay county court house. In June, 1876, Lewis STONE was united in marriage to Mary J. SCOTT, who was born in Ohio and who died on March 12, 1880. To this union two daughters were born, namely: Bertha E., who married J. O. MANOR, of this county, and has two children, Jewel and Marjorie, and Mary J., who married William HOPPES, also a member of one of the pioneer families of this county, and has three children, Ralph, Mary H. and John.


Submitted by: Eloine Chesnut
Milton T. Jay, M.D., History of Jay County Indiana, Historical Publishing Co., Indpls. 1922, Vol. II

---
Other surnames mentioned: Branstetter, Bunker, Gibson, Ginther, Harper, Ireland, Jones, Stansbury, Thornburg, Watts
Palmer W. HARPER, a well known and substantial farmer and landowner of Knox township, former trustee of that township and former member of the county council, was born in the neighboring county of Wells and has lived in that county and in Jay county all his life. Mr. HARPER was born on a farm in Nottingham township, Wells county, November 2, 1853, and is a son of William and Lydia Catherine (WATTS) HARPER, both of whom were born in Ohio, the former in Montgomery county and the latter in Columbiana county. William HARPER was about thirteen years of age when he came to Indiana with his parents, about the year 1840, the family settling in Wells county, where his father, William HARPER, Sr. had entered from the Government a half section of land, and on that pioneer farm the junior William HARPER grew to manhood. After his marriage he established his home there and was living there when the Civil war broke out. He enlisted his services as a soldier of the Union and went to the front as a member of Company A of the 47th regiment, Indiana Volunteer Infantry, with which command he served for more than four years, participating in numerous battles and campaigns, including the siege of Vicksburg, and was mustered out as a first sergeant. Upon the completion of his military service William HARPER returned home and remained in Wells county until 1870, when he came with his family down into Jay county and located at Pennville, then Camden, where he bought the hotel and livery barn and became one of the leading business men of the town. He also secured the contract to haul the mail on two "star" mail routes and became widely known throughout that section of the county. For eleven years he remained at Pennville and then returned to Wells county, locating at Geneva, where he bought a hotel and general store and his last days were spent there. He and his wife were the parents of nine children, the subject of this sketch the only one of these now a resident of Jay county. Palmer W. HARPER was about seventeen years of age when his parents came to Jay county and his schooling was completed in the schools at Pennville and two terms at Winchester [ Randolph Co.]. As a young man he clerked for his father in the hotel and general store at Pennville, marrying when he was just past twenty years of age, and when his father moved to Geneva he accompanied him and assisted in the management of the hotel and store at that place, remaining there several years, at the end of which time he returned with his family to Jay county and has since been a resident of this county. In 1903 Mr. HARPER bought the quarter section of land on which he is now living in Knox township and has since resided there. When he bought the place but forty acres of it had been cleared and the job of clearing, draining and fencing which faced him was a big one, but he got it accomplished in time and now has a well improved and profitably cultivated farm and a pleasant home. Mr. HARPER is a Republican, as was his father, and served as trustee of Knox township for the term 1894-99. He also has served for two terms as a member of the Jay county council from his district and in other ways has rendered a good citizen's duty in public service. He is past noble grand of the local lodge of the Independent Order of Odd Fellows at Pennville, a member of the local grange of the Patrons of Husbandry and he and his wife are members of the Methodist Episcopal church, which he has served as a steward. Mr. HARPER has been twice married. On November 16, 1873, he was united in marriage to Elizabeth GIBSON and to that union were born seven children, Harry; Ida L.; Goldie; Walter A. , who died at the age of fifteen years; James M.; Grant Leslie and Edward. The mother of these children died on May 20, 1899, and on February 12, 1902, Mr. HARPER married Amanda STANSBURY, a member of one of the old families in Jay county. To this union two children have been born, Frederick William and Mary Catherine, who are at home with their parents. Harry HARPER married Ethel JONES and has six children, Rachel, Walter, Ralph, Dorothy, Elizabeth and Warren. Ida L. HARPER married John BRANSTETTER and has two children, Edward and Robert. Goldie HARPER married Louis GINTHER and has one child, a daughter, Ruth. James M. HARPER married Flossie BUNKER and has four children, Palmer, Helen, Marjorie Nell and John. Grant L. HARPER married Addie IRELAND and has two children, Margaret and Wilma Dean. Edward HARPER, who married Dorothy THORNBURG, served as a soldier in the American army during the World war and was in service more than two years. He was a sergeant in the 302d Sanitary Train, overseas, and was wounded during the battle of the Argonne.

Submitted by: Eloine Chesnut
Milton T. Jay, M.D., History of Jay County Indiana, Historical Publishing Co., Indpls. 1922, Vol. II

---
Other surnames mentioned: Allison, Bond, Coffin, Crowe, Gordon, Grisel, Mendenhall, Mills, Morrow, Paddock, Starbuck, Walton, White
Reuben C. CROWE, one of the best-known citizens of Jay county, a retired farmer and live stock dealer, now living on the farm near Pennville, has been a resident of this county ever since the days of his infancy, more than seventy years ago, and has done' well his part of the general work of development that has wrought so great a change in conditions hereabout during that period. Mr. CROWE was born on a pioneer farm in Wabash county, this state, March 24, 1848, and was but a babe in arms when in the next year, 1849, his parents, Joshua and Phoebe ( BOND ) CROWE, came with their family to Jay county and settled in Penn township. Joshua CROWE was a native of South Carolina, born on January 29, 1795, and his wife was born in Wayne county, in what then was Indiana Territory, February II, 1812, a daughter of Joshua and Ruth (COFFIN) BOND, the latter of whom was born in Grayson county, Virginia, in 1781, a daughter of Libini and Hepzibah (STARBUCK) COFFIN, both members of Colonial families, Libini COFFIN having been a son of William and Priscilla ( PADDOCK ) COFFIN, the former of whom was a son of William COFFIN and the latter a daughter of Nathaniel and Ann PADDOCK. Joshua BOND was born in Guilford county, North Carolina, November 23, 1781, and was a son of Edward and Ann ( MILLS ) BOND. On October 6, 1805, in Grayson county, Virginia, Joshua BOND married Ruth COFFIN. He continued to make his home in that county until in 1811, when he came into Indiana Territory and settled in Wayne county, where he set up a sawmill in the Middleboro neighborhood and established his home, one of the influential Quakers of that then growing settlement. There he remained until 1835, when he disposed of his interests in Wayne county and came into this part of the state and entered a tract of land in what in. the next year came to be organized as Penn township, Jay county, and was thus one of the early settlers of this county. As is set out elsewhere in this work (p.97, Vol. I ), Joshua BOND set up, in the spring of 1836, the first grist mill in Jay county and "there was much rejoicing in the vicinity when this successor to the hominy block was put in operation." Here he spent the remainder of his life, his death occurring on September 11, 1876. He was one of the leading Friends in the Penn township settlement and many of the meetings of the Society of Friends were held in his house until the meeting house came to be erected. His first wife died here on November 23, 1847, and he married Mrs. Mary ( ALLISON ) WALTON, widow of his cousin, Abraham WALTON. She survived him less than one year, her death occurring on April 17, 1877. Joshua CROWE was a member of one of the families of South Carolina Quakers who moved to Peoria, Ill., in an early date with his father, Reuben CROWE, later moving to Indiana and marrying Phoebe BOND on January 12, 1837. Joshua CROWE died on February 16, 1853, and Phoebe CROWE died on April 7, 1883. They were the parents of seven children, Ruth Ann, Daniel, Abel Lee, Abijah, Reuben C., Mary Deborah and Jesse, and thus the CROWE and BOND connection in the present generation is a no inconsiderable one. Reuben CROWE was but four years of age when his father died. The mother kept the family together but he early was thrown pretty largely upon his own resources and for several years in his youth worked for Albert GRISELL. On January 4, 1870, he married Harriet T. GORDON, who was born at Dayton [Montgomery Co] Ohio, but had come to Indiana with her parents, James GORDON and wife, in the days of her childhood, the GORDON's having become residents of Jay county about the year 1852, and after his marriage established his home on one of the Albert GRISELL farms, where he lived for four years, at the end of which time he moved to a farm owned by Lewis GRISELL, where he lived until 1881, in which year he moved to Pennville and there became engaged in the mercantile business. Three years later he disposed of that business and moved to a farm in section 25' of Penn township, which he had purchased a few years before, and there established his home, this being the farm on which his son, Albert B. CROWE, is now living, and thereafter gave his chief attention to the buying and selling of live stock. In 1899 he moved to Portland and continued to carry on his life stock operations from that point until his retirement in 1911, since which time he has been living practically retired, though various interests still agreeably engage his attention. To the original tract of seventy acres which Reuben C. CROWE bought in Penn township he added until now he has 158 acres here and also owns a tract of 320 acres in North Dakota. To him and his wife four children have been born, Francis L., Roy A., Ora M. and Albert B., all of whom are living. Francis L. CROWE, former county superintendent of schools and former clerk of Jay county, now living at Indianapolis [ Marion Co.], where he is engaged in state departmental work. married Alida JONES and has four children, Heber, Garth, Elizabeth and Gordon. Roy A. CROWE married Vera MORROW and has one child, Irma, now living in Ft. Worth, Texas, and Ora M. CROWE married Vannie WALTON and is now living in The Dalles, Oregon. Albert B. CROWE, a teacher in the Pennville schools and who also is operating the old home farm in Penn township, rural mail route No. 2 out of Pennville, was born in that township on May 3, 1879. Reared on the home farm, he was given every advantage of schooling and after completing the course in the Pennville schools took supplementary courses in the Indiana State Normal School at Terre Haute, the normal school at Marion and a term at Taylor University, and has for more than twenty years been engaged as a teacher in the schools of Jay county, during this period having taught eighteen terms of school, two of these in the Portland city schools. Mr. CROWE, began teaching in 1900 and since 1908 has been connected with the Pennville public schools. In this latter year he rented 158 acres of his father's farm in Penn township, meanwhile having married, and has since made his home there, carrying on both his school work and his agricultural operations, and has done well, giving particular attention to the raising of pure-bred Poland China hogs. Mr. A. B. CROWE is affiliated with the Christian church, is a Republican and is a member of the Pennville lodge of the Independent Order of Odd Fellows. It was on December 24, 1903, that Albert B. CROWE was united in marriage to Clara WHITE, who was born in Fairfield county, Ohio, daughter of Lewellen and Martha ( MENDENHALL ) WHITE, and to this union two children have been born, Dorothy V. and Fred R.

Submitted by: Eloine Chesnut
Milton T. Jay, M.D., History of Jay County Indiana, Historical Publishing Co., Indpls. 1922, Vol. II

---
Other surnames mentioned: Hartley, Borden, Bunker, Gardner, Gregg, Griffith, Grissell, Lambery, Polly, Sell, Wharton
Walter L. HARTLEY, trustee of Penn township and proprietor of a fine farm in that township, on rural mail route No. 2 out of Pennville, one of the best known men in the northern part of Tay county, is a native son of this county and has lived here all his life. Mr. HARTLEY is a member of one of the real pioneer families of Jay county, his grandfather, Samuel HARTLEY having established the family home here in 1848, in the fall of which year he came here from Ohio and located at Portland, where he became engaged at his trade of blacksmith. A year later he bought a tract of land in Penn township and moved to the same, setting up a blacksmith shop there. There he lived until 1856, when he and his wife went to Minnesota and put in their lot with the pioneers in Mower county, that state, where they spent the remainder of their days, the latter dying in 1874 and the former in 1877. Samuel HARTLEY was born in Bucks county, Pennsylvania, in 1808, a son of Thomas HARTLEY. When he was eight years of age he moved with his parents to Ohio, where he grew to manhood. He married Deborah BORDEN, who was born in New Jersey, a daughter of Anthony BORDEN, who moved to Cincinnati [Hamilton Co.] about 1816, where she was reared and married. After his marriage Samuel HARTLEY made his home in Montgomery county, Ohio, where he resided until he came to Jay county. He and his wife reared a family of eight children and the HARTLEY's of this line in the present generation form a considerable family connection. William W. HARTLEY, one of the sons of Samuel and Deborah (BORDEN) HARTLEY and father of the subject of this sketch, was born in Montgomery county, Ohio, June 8, 1832, and was thus sixteen years of age when he came with his parents to Jay county. He early was trained as a blacksmith by his father and also became a skilled wagon maker, following that vocation with his father at Pennville. He later took up carpentering and became widely known as a builder hereabout. In the meantime he had bought an "eighty" in section 30 of Jackson township, which he improved and on which he made his home for ten years, at the end of which time he traded that place for a farm m section 31, but did not hold that place long, shortly thereafter trading for an "eighty" in section 36 of Penn township, where he spent the remainder of his life and on which his widow is now living. William W. HARTLEY was twice married. On June II, 1857, he was united in marriage to Mary J. GRISSEL, a daughter of Samuel GRISSEL, the "father" of Pennville. She died on December 14, 1859, and on October 9, 1862, he married Mary W. GRIFFITH, who was born at Waynesville, Ohio, and who was but a child when she came to this county with her parents, Lukens and Elizabeth ( WHARTON ) GRIFFITH, in 1848, the GRIFFITH's becoming substantial pioneers of Jay county. To William W. and Mary W. (GRIFFITH) HARTLEY were born four sons, those besides the subject of this sketch being Edwin Charles, deceased, Roy Griffith and Frank L. Walter L. HARTLEY, first born of these sons, was born at Pennville, then Camden, on June 13, 1864, and his schooling was received in the schools of that village. Under his father's direction he early learned the carpenter trade and for some time was engaged along that line, meantime also renting the paternal farm and carrying on farming operations there, and was thus engaged until in 1893, when he bought a tract of sixty acres in Jackson township and began "on his own." He later increased this to an "eighty" and farmed there until 1900, when he traded that farm for the eighty-acre tract on which he has since made his home in section 36 of Penn township. Since taking possession of this place Mr. HARTLEY has made numerous modern improvements and has an admirable farm plant. He also continues to farm the paternal farm of eighty acres, of which place he has had charge since he was twenty years of age. In addition to his general farming, Mr. HARTLEY has long been recognized as one of the leading stock breeders in Jay county, his specialty being pure bred black Angus cattle and he has a fine herd of breeding cattle on his place. He also feeds out about 125 head of hogs a year and is doing well in his operations. M! r. HARTLEY is a Republican and has for years given close attention to local civic affairs. He is at present serving a term as trustee of Penn township and has in other ways rendered service to the public. He is a member of the local lodge of the Knights of Pythias. In 1886 Walter L. HARTLEY was united in marriage to Mary SELL, who was born in Randolph county, daughter of George and Margaret ( LAMBERT ) SELL, and to this union five children have been born, namely: Lee, who married Florence GREGG and has one child, a son, Robert; Wallace, who is unmarried and is at home assisting his father in the management of the stock farm; Ella, who married J. C. POLLY and has three children, Dorothy, Eileen and Sarah Maxine; Mary, who married Harry GARDNER, and Lucy, who married Francis BUNKER. The HARTLEY's have a very pleasant home and have ever taken an interested part in the community's general social activities.

Submitted by: Eloine Chesnut
Milton T. Jay, M.D., History of Jay County Indiana, Historical Publishing Co., Indpls. 1922, Vol. II

---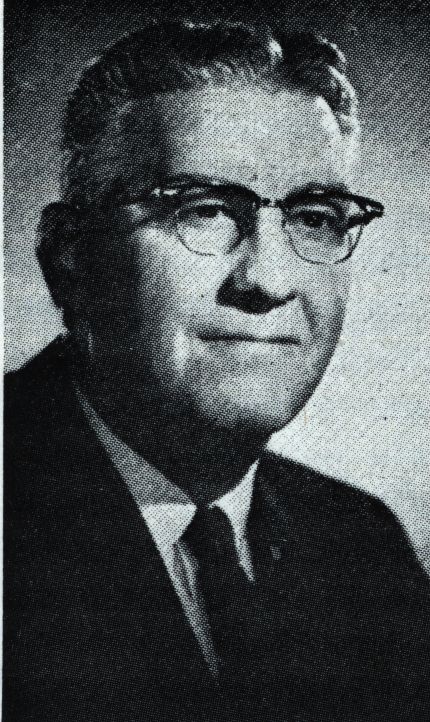 Richard Thomas James
Richard Thomas James was born in Portland, Indiana, February 27, 1910, the son of Elmer Eldridge James and Sarah Sophia VanCleve Baker James. His grandfather, David VanCleve Baker was a member of the Indiana Legislature. His great-great grandfather Nathan Byrd Hawkins, son of John Jones (J) Hawkins, the second pioneer settler in Jay County, represented Jay and Adams counties in the Indiana Legislature in 1842 and was a member of the Second Indiana Constitutional Convention in 1850. Another great-great grandfather, David Clark Baker was a Jay County Clerk and judge.
In Portland High School, Dick was active in sports and public speaking, winning the state oratorical contest.
He was president of both junior and senior classes. He attended law school at Western Reserve University in Cleveland and later practiced law in Portland. He was a member of the Jay County Bar Association. Dick also won the state doubles championship in tennis.
Dick's career in Republican politics began in 1934 when he was elected to the Indiana House of Representatives. He served in the House in the 1935 session and at the special session of 1936. In 1938-40 he was Deputy Secretary of State. When elected State Auditor in 1940, he was the youngest elected state officer in history. He was re-electedin 1942. He was Lieutenant-Governor of Indiana from 1944 to 1948, during the Governorship of Ralph Gates. In 1948 he dropped out of the gubernatorial race to become Vice-President and Treasurer of Butler University until 1952. At that time he became Executive Secretary of the Hoosier Motor Club until his death in 1965.
In 1952, he was the first campaign chairman for the Indiana Mental Health Association which began a growth progress which has been outstanding in the nation. He was also president of the association.
Dick was chairman of The Indianapolis Community Chest Campaign in 1957, the Easter Seal Drive, Advisory Committee to the State Department of Commerce and Indiana Highway Users Conference.
Other organizations he served were the Indiana Legislative Committee on Traffic Safety, Indianapolis Symphony Board, Indianapolis Travelers Aid Society, Riley Memorial Association and a trustee of both Butler University and Arthur Jordan Foundation. He was a director of Union Federal Savings and Loan Association.
He was a member of the Presbyterian Church, Columbia Club, Indianapolis Athletic Club, Indianapolis Press Club, Beta Theta Pi. Fraternity, Scottish Rite, Rotary Club and a Past Exalted Ruler of the Elks Club.
Richard James and Alice Rebecca Beard were married July 22, 1934. Alice was the daughter of Leora Paul and Cecelia Johanna Fitzmaurice Beard.
Direct descendants of Richard T. James are: Richard Beard James and wife Sandy Reagan James; Rebecca James Baldes of Portland, IN; sons Peter John Baldes and Jodie Gerdin Baldes; Richard James Baldes and Elizabeth Dix Baldes and daughter Anna Elizabeth Baldes of Albany, NY.
Richard Thomas James died in Indianapolis on October 27, 1965, and is buried at Greenpark Cemetery in Portland, Indiana. Alice died in Richmond, Indiana on August 5, 2003.
At the time of his death, the Indianapolis Star editorialized ...
His untimely death at age 55 is a loss to the state andits residents whom he has served so well. A tireless campaigner for community and civic projects, for the development of Butler University as well as for expansion of state commerce and industry, Dick James in departing leaves a void hard to fill.
Alice James later married Dwight Young of Portland, Indiana. Genealogists and historians may be interested to know that Alice's first husband, Richard James and Dwight's first wife, Mary Easterday were second cousins. Therefore, their children are both third cousins and brothers and sisters. Alice and Dick never knew that they were also eighth cousins once removed through Clayton sisters who married into each line back in 16th century England.

Submitted by: Rebecca James Portland, Indiana

---