1996 Reunion Photos
Here are a few photos from our 20th reunion and the festivities the night before. See if you can figure out who is who!! (We've got pictures of a few spouses in there to try and confuse you!). Keep checking back, we'll be adding more and we'll be adding the names of the classmates in the photos from time to time. If you have some photos from the reunion you'd like to send please e-mail them to us!!

Diann Schreiber Becker and Nancy White get ready
for a great time at Between the Buns.
Deb Moore Stockberger is happy
that is finally time for the reunion!
Perry Case and Linda Walsh Case
haven't changed a bit.
Karen Clark Riveria
seems happy to be here!
Mike Harvey has a big
smile for the camera.
Tim Zigler chats with
a couple of old friends.
Linda Yendes Ryker would
like to invite you to join
her for a beer!
Deb Whitfield-Peterson shares a
laugh with friends.
Rosalyn Thomas Daniels, Janet Thompson
Leazenby, Gina Stemmer Wirt and
Jan Marshall McKinstry mug for the camera.
Dan Scott remembers a
few high school pranks!

Diane Campbell Lovin is ready for a beer!
Hey Mike Klimek!!
Tonya Reed D'Haenens finds
old friends amusing.
Michele Treash Chwalek
and husband having fun!
Corrine Pluta Kjeldsen, Sharon Glassford,
Sue Schmidt Peters and Nancy Schmidt Kyme
take a picture to remember the evening with.

Deb Simpson Murray
reminisces with old friends.
Hey Jim Kestermeier, great
to see you again!
Jim Lamb is wondering who
all these people with baby
pictures are - where's
the group from Adams?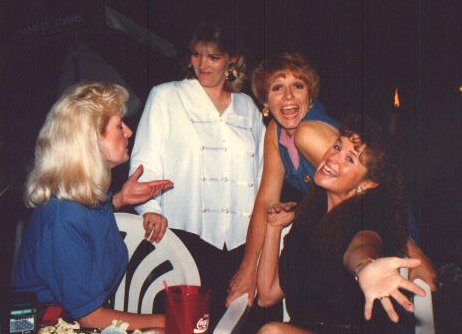 Gina Stemmer Wirt, Nancy White, Diann Schreiber Becker and Janet Thompson Leazenby are having a great time.
Jack Lamb and Janet Thompson
Leazenby mug for the camera!
Paul Bilinski and his wife,
Cindy (North) having a good time!
Janet Burnside Fish and her husband enjoy
the weather and seeing old friends.
Marsha Mennucci gives the
photographer a big smile!

Rob Gustafson, Cindy North
Bilinski and John Green get
ready to check in for the reunion.

Diane Chandler (wife of Bruce) is
making new friends including Chris
Walter (standing) and Dave Weisman.
Kelly McNulty Railing is anxious to see old friends.
Mary Ross and Joe Bosco update
each other on the last 20 years.

Mike Klimek and his lovely lady!

Alberto Verteramo and his wife check-in at the reunion.
Sherry Chapman Scott
and Andy Vigue arrive.
Steve Keb, Rob Furlong and his
wife arrive at the reunion.
Some Nuner grads line up for the
photographer - front row left to right:
Sherry Chapman Scott,
Mike Berndt, Janet Thompson Leazenby,
Paul Bilinski and Carlos Chavez
back row left to right:
Tony Vigue, Gina Stemmer Wirt,
Jim Kincaid and Tom Dockery.
Diann Schreiber Becker and Nancy White pose for our photographer at the reunion.
---
Return to main Reunion page
&copy 2001 Deb Murray
This page may not be copied or reproduced
in any way without the written consent of the author